In Memory
Harry Schachter VIEW PROFILE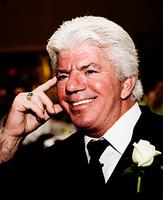 Harry Schachter, a funny, compassionate and generous man, passed away on May 23, 2023. Born on Oct. 7, 1952, in Longview, Texas, Harry, affectionately known as "Buster," touched the lives of many throughout his 70 years.

Harry was a devoted father to his daughter, Jeanette Webster, whom he considered his greatest accomplishment in life. Jeanette fondly remembers her father's playful nature, his talent for making shadow puppets at bedtime and the special way he made her feel on her birthdays. Harry's love for his video camera has left Jeanette with cherished memories that will last a lifetime.

Harry also was a successful entrepreneur, owning and operating Techniprint, Inc. for over 30 years.

But, it was Harry's love for sports and his ability to connect with people that truly set him apart. A proud Texas A&M football fan, Harry could often be found at neighborhood restaurants, striking up conversations and sharing his passion for the game with fellow enthusiasts.

His love for animals was equally noteworthy, as he cared for the stray cats in his neighborhood and rescued his beloved kitten, Kitty Kat.

Harry is survived by his daughter, Jeanette Webster, and her husband, Brandon Webster; his grandchildren, Chet and Ellie Webster; and his siblings, Rochelle Barber, Sherry Dixon and Claude Broussard; and numerous friends and family who will miss him dearly. He was preceded in death by his father, Albert Schachter; his mother, Jewell Schachter; his sister, Patricia Allen; and his brother, Bob Broussard.

Harry's memory will live on through the many lives he touched with his humor, generosity and boundless compassion. Harry Schachter's life was a gift that will continue to bring smiles and warmth to those who knew him.

In honor of Harry's life, we encourage you to leave memories and upload photos to his memorial page. Your stories and images will help celebrate the incredible person that Harry was and will serve as a testament to the love and laughter he brought to those who knew him.

In lieu of flowers or gifts, please consider making a donation in Harry's memory to the rescue that took his beloved kitten: Pet Connect Rescue Texas; Venmo: @pet-connect-rescue-tx; include: In memory of Harry Schachter. Website: petconnectrescue-tx.org/donations.html.
Click here to see Harry's last Profile entry.