In Memory
Marilyn Joan Miles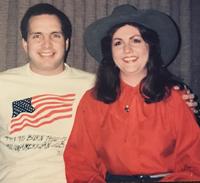 This is from her sister, Janet Miles (Chapman) BHS 72...
Marilyn "Joan" Miles (4/11/1953 - 5/27/2019)
Joan was my sister.
We were very close, both in age (23 months) and in our hearts. She was devoted to her family and a fierce animal lover. Joan had no children in her brief 5 years of marriage in the 1990s, but was Godmother to my children, Summer and Sam, whom she loved dearly.
She was a devout Christian, a true friend and a testament to our parents, whom she cared for over the final 25 years of her life. She and our mother moved northeast of Dallas in 1999 to mother's childhood town, Leonard, following our father's death. Joan's loving care has allowed us to continue enjoying our mother far into her 98th year.
There is no way to describe the pain all our family feels every day after losing her so suddenly to lung cancer. Joan was a totally selfless person. Per her will, she requested no services nor obituary.
I want to thank Chris Michael for driving to Dallas to visit her in the hospital during that time.
Janet Miles Chapman (Bellaire High School Class of 1972)