In Memory
David Lisot
David Lawrence Lisot
JANUARY 28, 1953 – OCTOBER 15, 2022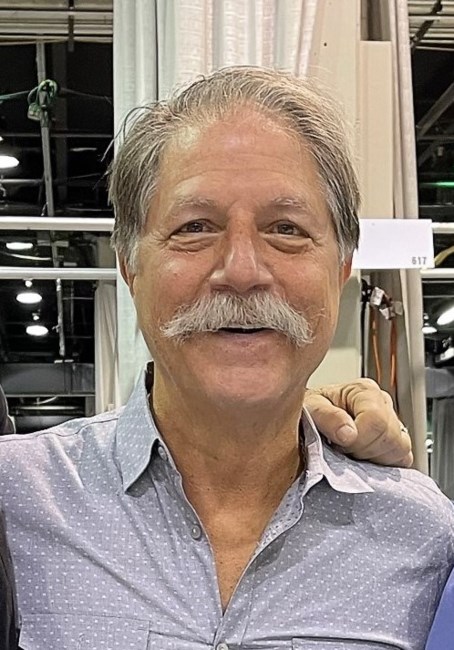 IN THE CARE OF
David Lawrence Lisot passed away unexpectedly on Oct. 15, 2022, from complications following minor surgery. He was 69.
David Lisot was born January 28, 1953 in St. Louis, MO, to Oliver Lawrence Lisot, a chemical engineer and avid banknote collector and Dorothy Sue (Gunstream) Lisot, homemaker, both predeceased. He was the middle child between older sister, Rebecca Sue Lisot (predeceased) and younger brother, Danna R. Lisot.
Funeral services for David Lisot will be held Monday, November 7, 2022, at 10:30 am (central time) at St. Joseph Catholic Church, 600 S. Jupiter Rd., Richardson, TX 75081.
The funeral service will be livestreamed and accessible through this link: https://vimeo.com/765134230
Following the funeral service will be a reception (lunch) at 12:30 pm at Aboca's Italian Grill, 100 S. Central Expy, Suite 63, Richardson, TX 75080.
Flowers for the funeral may be sent to St. Joseph Catholic Church, or in lieu of flowers donations may be made to the "David Lisot Memorial Young Numismatists (YN) Scholarship," created by the American Numismatic Association to help educate and inspire the next generation of numismatists. Donations will be used in support of children and youth interested in coin collecting.
David Lisot Memorial YN Scholarship (money.org)https://www.money.org/lisot-scholarship
David is survived by his fiancé Debbie Lovell (her children and grandchildren); David's children, Maxine Dorothea Lisot and Alexander Lawrence Lisot (+ fiancé Jenn Chapman); granddaughter, Evie May McCurrach (Maxine's daughter); brother Dan Lisot (+ Liza); niece, Monica Sue Lisot; nephew, Michael Lisot (Becky's son); Aunt Diana (Gunstream) Heald; Elizabeth Lisot-Nelson, mother of his children; and many long-time friends, all of whom will miss his kindness, enthusiasm, philosophical musings and sense of humor.
After living as a young child with his family in Aruba and Florida, David did most of his primary and secondary schooling in Houston, graduating from Bellaire High School before moving to attend the University of Boulder, Colorado, where he earned a bachelor's degree in Philosophy and learned to speak fluent German during a study abroad program in Berlin. He was a graduate of the Gemological Institute of America, and later in life furthered his education with a Master of Liberal Studies in Art and Cultural Traditions from Southern Methodist University, Dallas.
David Lisot was a lifelong coin collector. Starting the hobby as a child, he went on to make this his profession, adding expertise in other collectible areas, such as: stamps, banknotes, pocket watches, postcards, cigar labels and sports memorabilia. After graduating from college, David moved to Los Angeles to work for Jonathan's Coins. Upon leaving Jonathan's, he began his own coin business, opened a high-end collectibles gallery in Century City and created an auction company. Later he moved back to Colorado where he and his dad created a mail-order collectibles company. David got married in 1985, and it was during this time he created a community cable TV show in Littleton, CO, called "Collector Talk," which launched his career in newscasting and reporting on collectibles.
David moved back to Santa Monica, CA, to produce "The Coin Report," for the Financial News Network; he anchored the daily show before a national cable audience. His two children, Maxine and Alexander were born during this time. When FNN was sold, David moved back to Colorado and then to Texas where he bought and ran a coin and collectibles shop in Plano. When his mother inherited Richardson Building Materials, David moved his collectible shop there so he could help run the business; he even built a "television studio" in an upper room to send out his coin reports on the internet. He learned how to edit videos, and began recording educational lectures at coin conventions, also interviewing well-known dealers and collectors.
David was a visionary who believed the way to expand awareness about coin collecting was through "new media." He founded Advision, later to become Cointelevision.com, which produced educational VHS tapes on numismatics and collectibles, then DVDs and eventually streaming content on the web. His archival digitized videos number close to 2,000. During his tenure in the numismatic and collectibles fields, David made a point to interview older collectors before their passing to capture knowledge for future generations. His legacy will now live on in his numerous recordings.
David's talent and energy for entrepreneurial endeavors seemed endless. He was president of Media Resource Corporation from 1986-1990, developed clients and commercials for Heritage Auctions from 2003 – 2008; was executive producer of Coinweek.com from 2011 – 2014, and executive producer of Cointelevision.com from 2000 until his death. As a videographer, David produced and was featured in the Public Television series, Money Moves, and the award-winning Money, History in Your Hands with veteran film star James Earl Jones, underwritten by the American Numismatic Association and the Professional Numismatist Guild.
David was a member of multiple professional organizations, including the American Numismatic Association, which he joined in 1973, serving on the board 1993-95, and continuing his service on their Advisory Council. He was also a member of the Central States Numismatic Society, Professional Numismatists Guild, and the National Silver Dollar Roundtable, which recognized him with its Lifetime Achievement Award in 2019. He was a governor of the NSDR board at the time of his death.
David touched many lives, creating deep lifelong friendships. He will live on in the memories of those who knew him, especially his family. David divorced amicably in 2014. He met Debbie Lovell, his beautiful fiancé, in 2015. He first asked her to marry him on the Eiffel Tower in Paris, but she wasn't ready and turned him down. He asked again two years later and she said yes! David and Debbie enjoyed traveling, dining with friends, going to art museums, and Debbie often accompanied David on his business trips. They were planning many happy years of adventures together, while also enjoying their children and grandchildren, including a new one expected in February, 2023 (Alex + Jenn).
It is with heavy hearts that those who loved David say goodbye to him in this world, but hope to see him in the next where we all may find eternal peace.
Fond memories and expressions of sympathy may be shared at www.teddickeywestfuneral.com for the Lisot family.
https://www.dignitymemorial.com/obituaries/dallas-tx/david-lisot-10971926