In Memory
Randy P. Conner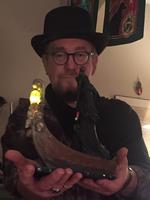 Our classmate Randy Conner passed away on May 5, 2022, after suffering a stroke in late 2021. He is survived by his husband, David Hatfield Sparks, who writes:
"Randy P. Conner, my beloved, went to ride with Charon on May 5, 2022 — Cinco de Mayo. He passed through the Veil in the night at home with his Bast kitten guarding him. We were together 43 years. David Hatfield Sparks
In honor of Randy, a scholarship is being created in his name to support an LGBTQ+ student studying in the Fine and Performing Arts program at Moraine Valley Community College where he was Associate Professor of multicultural Humanities.
To donate to Randy's scholarship:
• Go online to donate via credit or debit card using this donation page dedicated to Randy – https://www.morainevalley.edu/randy-conner/
• Or Mail a check made payable to the Moraine Valley Foundation and write "Randy's Scholarship" in the memo of the check. Mail to Moraine Valley Foundation, 9000 W. College Parkway, Palos Hills, IL 60465"
Randy was so talented, and inspired creativity in so many of us. He will be missed by classmates from Bellaire, and his students and co-workers at Moraine Valley Community College. Rest in peace, Randy.